Tan to perfection with our he shi collection of professional tanning products
NOW AVAILABLE AT EYEBROWS TO NAILS BEAUTICIANS CLAREMORRIS, CO. MAYO
TAN ADVICE TIPS!
Skin Tone
How to determine whether your skin tone is warm or cool:
Your skin tone is the colour, or hue, of your skin and is determined by the amount and type of melanin in your skin and the size and number of blood vessels that lie closest to the skin's surface. Skin colours vary greatly from person to person.
It is necessary to make the appropriate choices for make-up, hair colouring and clothing. Here at Brows to Nails I have developed a guide to help you determine your skin tone.
SKIN TONE GUIDE:
Did you know regardless of your skin tone, your favourite He-Shi tan will deliver the depth of colour you require with just the one product? Look at the colour of your skin after the first layer has been applied. If you would like a deeper tan, simply apply additional layers until you reach the intensity you're comfortable with. But remember your tan will become slightly darker over the next 6-8 hours as it develops, so allow for deeper development.
Narrow & Minimise (Deepen Colour)
Narrow a wide face by applying near the ears and blend forward
Minimise arm fullness by blending the darker colour from back to front of the arms, creating muscle tones
Create a slimmer and firmer leg by adding a layer along the back of the leg and calf
Highlight & Emphasise (Lighten Colour)
Highlight by applying lighter tones to the collarbone, cleavage, centre of tummy or centre of back to emphasise
A touch of shimmering highlighter will create a lean long leg by applying down the front of the leg and foot.
Self-Tan Application
Preparation is important. 24 hours before tanning you should shave or wax and exfoliate with a granulated body scrub, paying close attention to the driest parts of your body such as your elbows. Before applying tan use a moisturiser on the hands to prevent them becoming too dark or streaky, a small quantity can also be rubbed into the elbows.
For the most even coverage a tanning mitt is essential. The tanning product should be applied directly onto the mitt and then swept over the skin. When using He-shi tan you can see the colour on the skin which allows the application to go on evenly. For best results leave overnight as the colour will darken over 8 – 10 hours.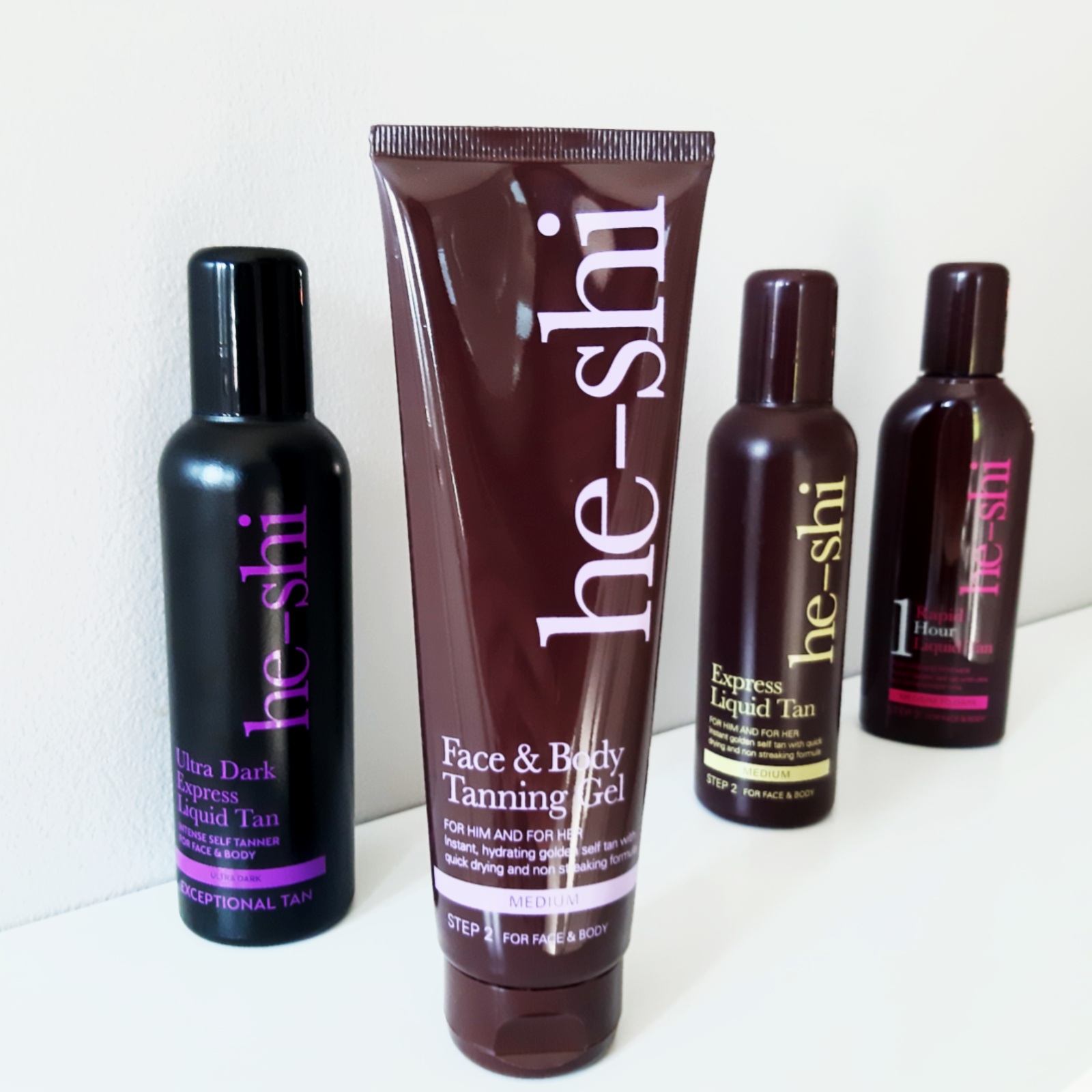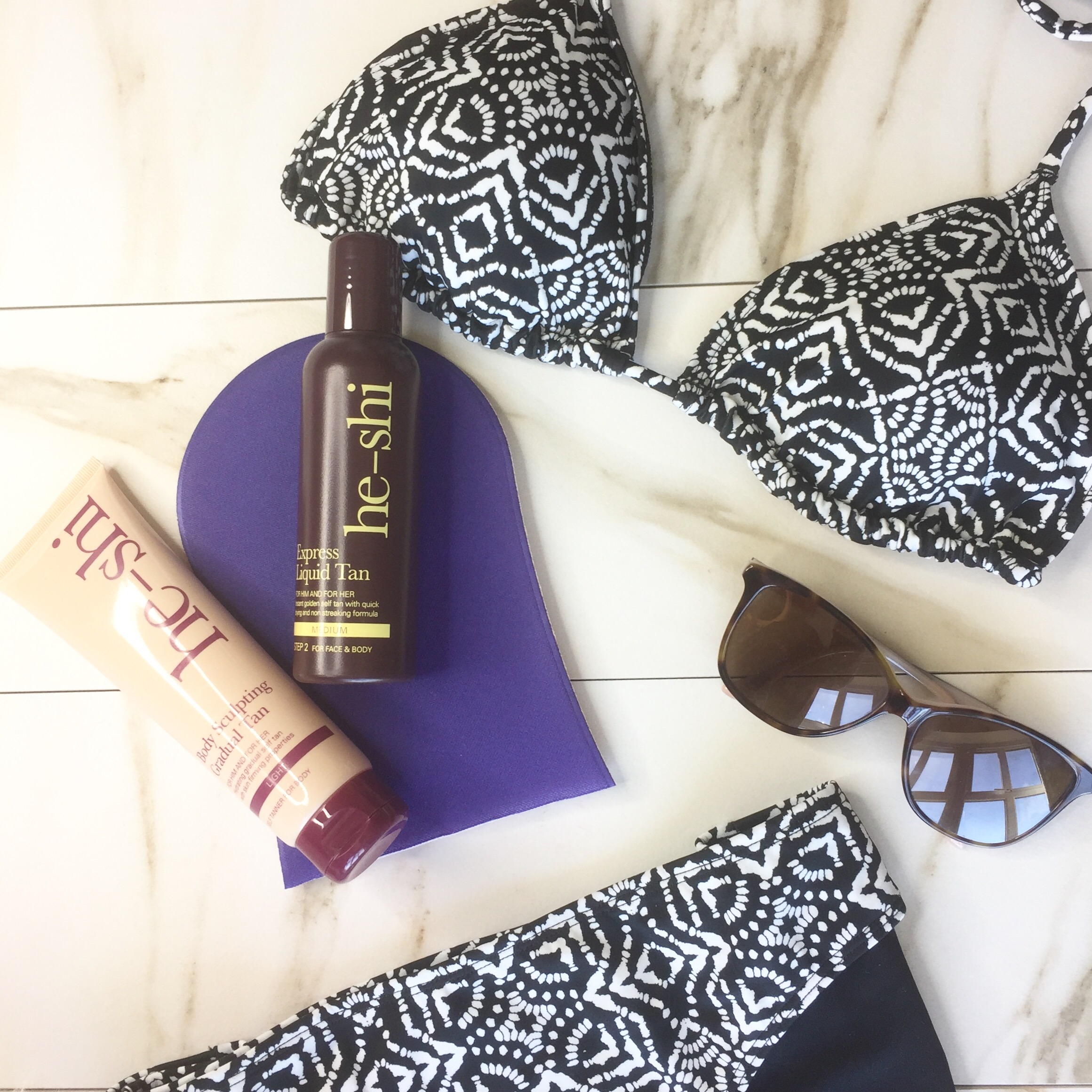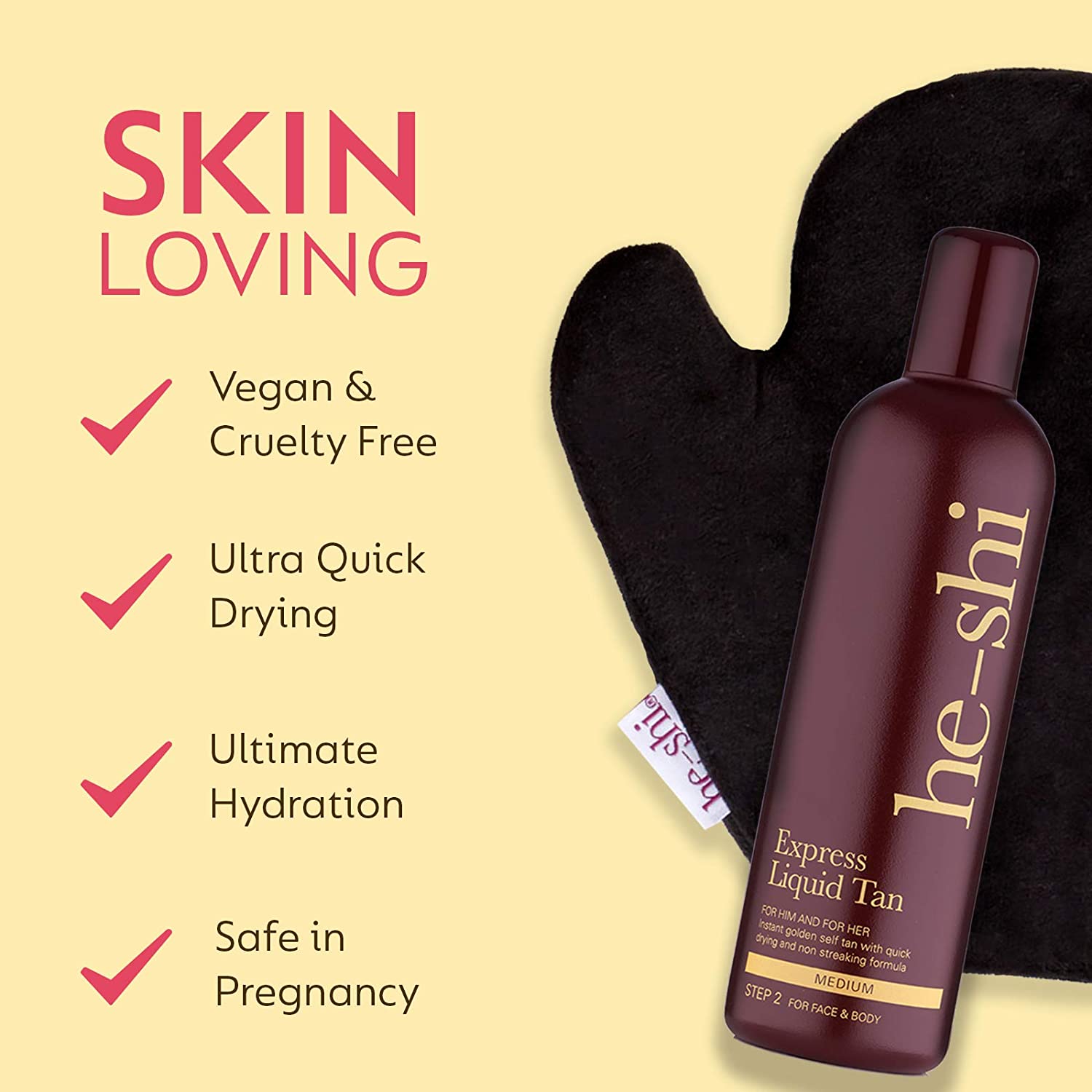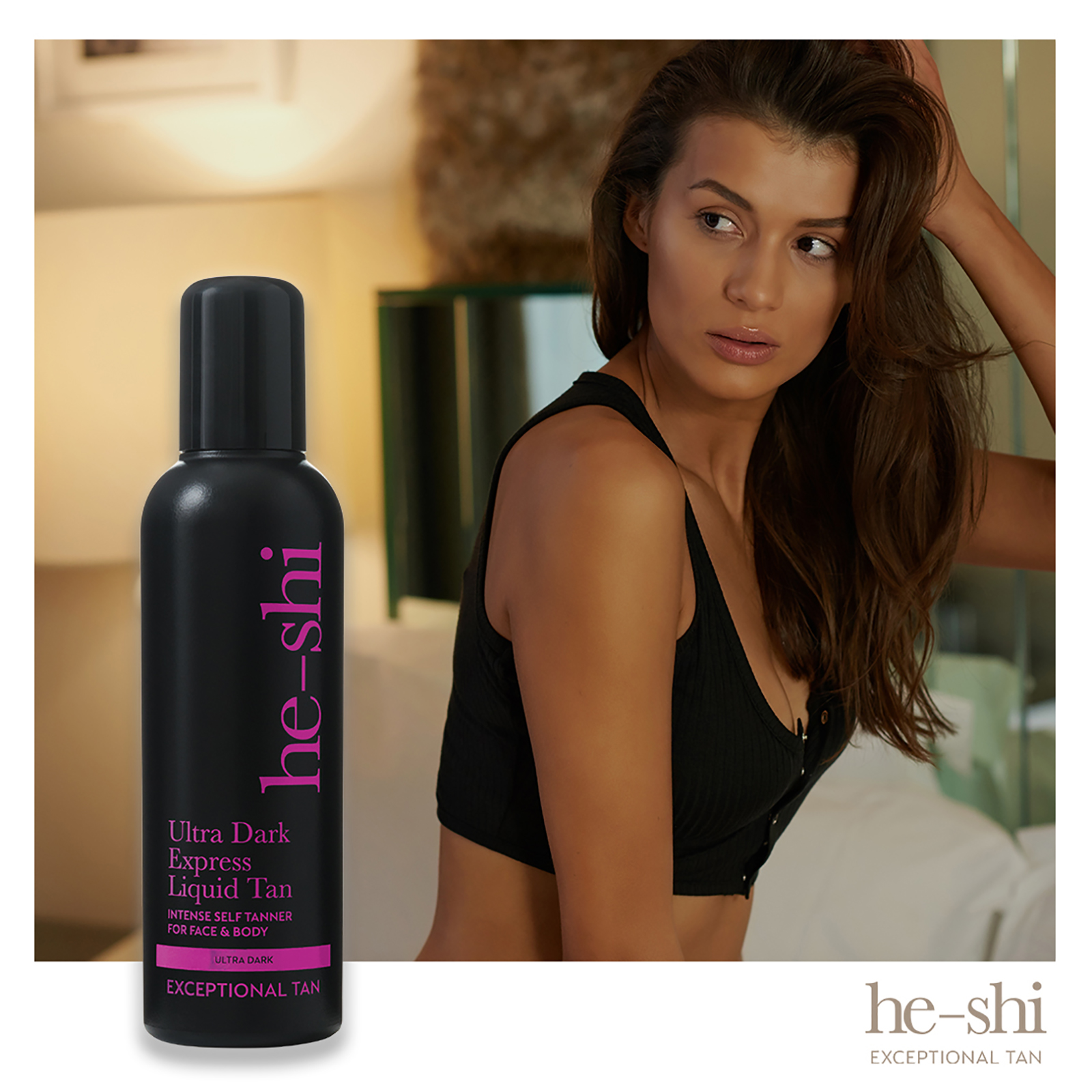 HE SHI PRODUCT DESCRIPTION:
He-Shi Gold Spray Tan Solution has been designed to give the ultimate spray tan whilst containing some of the best organic ingredients you can find within He-Shi Self Tan range.
With 8% DHA, the He-Shi Gold Spray Tan Solution is a lighter colour strength within the He-Shi Professional Spray Tan Solutions delivering a golden tan as it contains colour enhancing ingredients, ensuring the richest results. Most suitable for fair clients or those who like a sunkissed look.
Professional Spray Tan Solutions from He-Shi come in 4 colours, Gold, Dark, Supreme and the new Rapid Tan. Each spray tan requires one over all application by using no more than 50ml per full body.
He-Shi Gold Spray Tan Solution is a luxurious instant self tanning bronzer which tans on contact and will last upto 10 days. With its 'see where it goes formula' you can be confident of not developing streaks or patches. The colour guide allows me to visually see the depth of colour when applying to the skin.
This spray tan is lightly fragranced to disguise the smell of tanning.
Benefits to He-Shi Gold Spray Tan Solution:-
100% NATURAL DHA
Approved by EcoCert. By using organic DHA He Shi products are now more natural than ever.
PARABEN FREE
He Shi have replaced controversial parabens with a gentle alternative preservative system to keep the solution useable for longer.
ALCOHOL FREE
Applying alcohol to the skin has a drying effect so He Shi have simply removed it.
A LONGER LASTING COLOUR
Includes moisturise lock technology – Pentavitin for results lasting up to 10 days. Added primarily for its moisture retention, regulating and binding properties. Protects dry skin against symptoms such as brittleness, roughness, unevenness, faintness and itching
Clinically proven – tests have shown that PENTAVITIN improved hydration of the skin by up to 40%
ACTIVELY MOISTURISES THE SKIN
With moisture lock technology, Isopentyldiol works alongside Pentavitin. Primarily for its moisture retention – helping to maintain high moisture content in the skin
Clinically proven – tests have shown a 110% increase in moisture content 5 minutes after application
ANTI-AGEING INGREDIENTS
He Shi Youth Revive formula includes highly moisturising ingredients which whilst rejuvenating your skin's appearance will help to fight the signs of ageing – He Shi prides themselves on multi-functional tanning with skincare benefits.
A DELICATE FRAGRANCE ON THE SKIN
Infused with low levels of Vitamin E fragrance to subtly disguise the smell of DHA
AS QUICK DRYING AS EVER
Because with He-Shi the mist goes on so finely, it doesn't soak the skin and therefore always dries quickly.
He-Shi Gold Spray Tan Solution develops within 6-8 hours to give the best self tan with a natural glow lasting for up to 10 days.
Advanced, cosmetically approved formula, made in the UK to the highest grade.
He-Shi Professional Products are the choice of tanning professionals across the UK, Ireland and Europe. He-Shi is the solution to all professional salon self tanning needs.
Eyebrows to Nails Beauty Salon in Claremorris, Mayo is trained to use He Shi. Make your appointment today!
WATCH the He Shi 3 steps video to the perfect Tan.
P.S If watching from your smartphone please turn your screen landscape.