BROWS TO NAILS by Paula G Introducing 'GELISH'
Gelish is a wonderful gel polish cured under UV that provides strength to your nails and has over 150 colours to offer which is alot more than Shellac or any other of its competitors have in their range and lasts much longer!
IT CAN ONLY BE DESCRIBED AS A NEW LOVE OF AMAZING COLOUR THAT WILL LAST LONGER. IT CAN LOOK AMAZING FOR 21 – 28 DAYS!
New GELISH soak off nail polish.
The worlds 1st crossbred gel and colour hybrid.
The miracle nail colour that is GELISH will help your nails
Grow and stay strong
Will not split, chip or tear
Soaks off in 10 minutes leaving a healthy nail
And best of all, it will look amazing for 21—28 days.
What is Gelish?
Gelish is a gel polish designed for the natural nail and enhancement client.  Unlike conventional gels or gel nails, Gelish is applied like a normal polish (base coat, colour coat and top coat) but cured under UV.  Clients may also find that their natural nails can grow longer than usual as Gelish provides strength to the natural nail.
It holds up to 3 weeks of high shine gloss. It is chip and scratch free wear on nails – and lasts longer on toes!
Does not look thick on the nail Over 80 colours to choose from to see the range of colours go to www.nailharmony.com
No more nicks, chips, dents or smudges post manicure
Provides strong natural nail protection
Removed easily in 10-15 minutes – no drilling/buffing or filing
Tough and flexible
No damage to natural nail
For weak or damaged nails a strengthening layer of gel can be applied.
To remove Gelish from your nails they are simply wrapped up with a cotton pad soaked in Gelish remover and held in place with a piece of foil.  No files or drills used therefore no damage to natural nails.
Call Paula today at Brows to Nails Beauticians in Claremorris, County Mayo to get your gelish nails.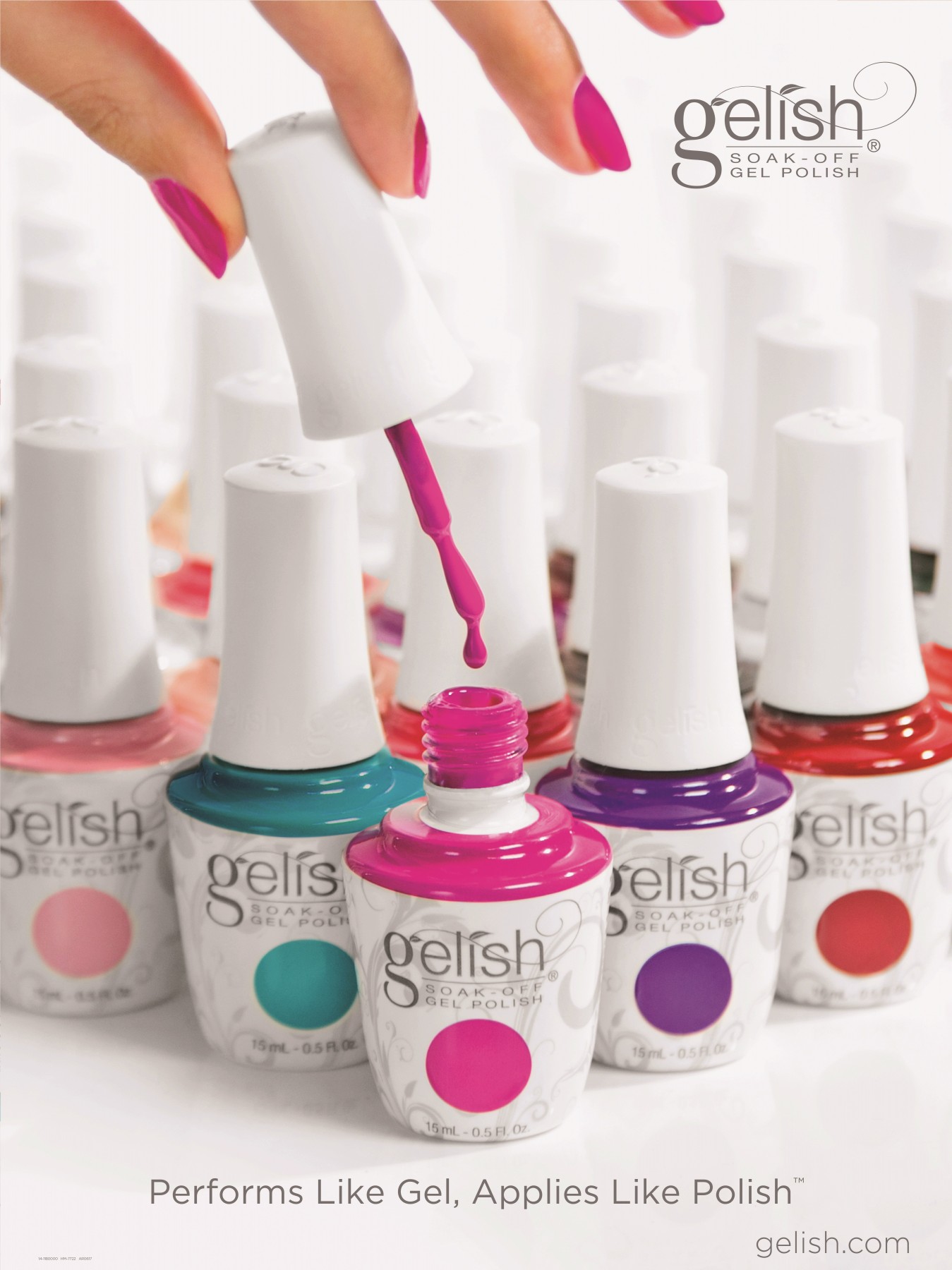 Gelish Aftercare Advice
To ensure you enjoy beautiful Gelish nails for as long as possible the following should be noted:-
Be especially careful in the first 24 hours after application.  Avoid intense heat (saunas or sunbeds) during this time.
Use cuticle oil twice daily.  Dab a little onto each nail and rub into the nail and surrounding skin and cuticles. Nails need to keep moisturised and nourished, as you would any treatment be it hair, skin or nails. Cuticle oil works as conditioner would on your hair.
Never use your nails as tools, use the pads of your fingers.
Never pick the product off as this can cause damage to the nail.
Avoid using harsh chemicals eg acetone/cleaning products without protection. Always wear rubber gloves.
Always wear rubber gloves when doing household chores & gardening.
Keep your nails at a reasonable length.
Never try to remove the product yourself unless you have been educated in the correct removal process. Incorrect removal can result in damaging your nails.
Gelish vs Shellac
So you've probably heard all about Shellac, so what about Gelish?
Gelish is also a gel-polish made by Hand and Nail Harmony. Both Shellac and Gelish are applied like polish from polish bottles and are
cured under an Led Lamp. Neither requires filing the nails surface before application and both are removed by soaking in acetone. Both
Shellac and Gelish are Formaldehyde, toluene and DBP free so contain NO nasty chemicals.
Which is safest, Gelish or Shellac?
There is an argument that Shellac is better because you don't buff the natural nail before hand, therefore you aren't damaging the natural
nail. THIS IS NOT CORRECT! Gelish only advises a LIGHT BUFFING off the nail surface not filing, which doesn't HARM your natural nail
whatsoever as long as it is done properly! If anything this is of benefit to the nail as it smoothes over the nail base, preventing it
from flaking.
Best colour range, Gelish or Shellac?
Gelish currently offers 112 gel polish colours while Shellac is offering 40.
Which lasts longer?
Gelish advises a THREE week manicure, while Shellac claims two weeks plus in their marketing.
Conclusion…
With these products, I don't think it's a matter of one being better than the other. Currently, Shellac is better known due to CND's superior marketing. However, I do believe Gelish is more durable and better for people who are harder on their nails, the slightly longer last and the wider range of colours available is the reason I chose to use the Gelish product over Shellac.
For an appointment or free consultation please call Brows To Nails Beauticians at (087)9875467 or complete the request appointment form in my contacts page.