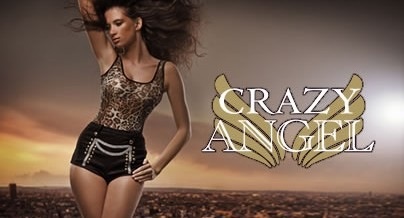 SENT FROM HEAVEN…
Tan to perfection with the Crazy Angel collection of professional tanning products. The supreme range from this boutique brand will caress your body with a heavenly bronzed veil. This fabulous and innovative range is heaven sent, after using Crazy Angel you are on the path to an eternal tan.
NOW AVAILABLE AT EYEBROWS TO NAILS BEAUTICIANS CLAREMORRIS, CO.MAYO.
ONLY HEAVEN KNOWS…
Crazy Angels' innovative formulations achieve fabulous sun free results. The tanning industry experts at Crazy Angel Headquarters, have developed a beautiful and angelic tan. It is attained through naturally derived DHA and Erythrulose without the use of Alcohol, Parabens or Mineral Oil. Bearberry extracts soften and caress you skin whilst leaving your halo intact.
THANK HEAVENS…
Calling all angels… this is the promised tanning solution. Crazy Angel products are not only out of this world they create a glorious impact in any retail or salon space. The inspired packaging and celestial fragrance allows all angels to have a flawless, long lasting golden sun glow. Experience the range and earn your wings.